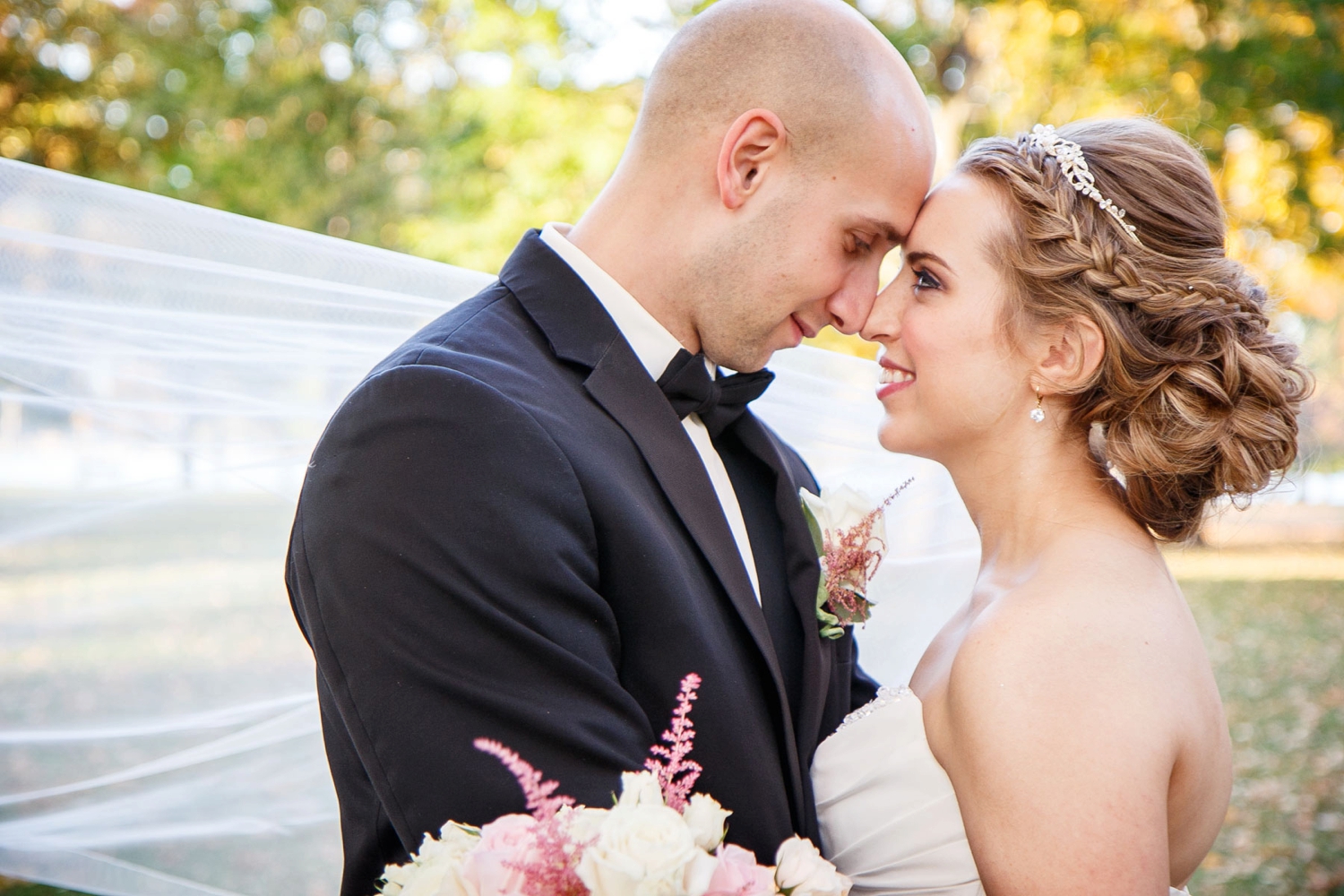 Nikki and Kurt were married on October 21st, with a ceremony at St. Gabriel's Church and a reception at the Bridgewood Resort in Neenah, Wisconsin.
Nikki and Kurt's Fairytale
Kurt proposed to Nikki at their local Target store, where they met—so they always say that you really can find anything at Target! They were supposed to go shopping together, but they were so excited that they ended up wandering aimlessly around the store instead of buying anything.
The two of them know that they can do anything together and love to have adventures. For example, Nikki's family loves Disney, so they recently planned a trip down to Florida, where Nikki's younger sister was interning at Disney World. Kurt and Nikki were supposed to meet up with Nikki's parents in Sun Prairie and then drive to Milwaukee to catch their flight. Her parents got there three hours early to try to beat the snow, but by the time they got to Milwaukee, the flight was cancelled.
The airline offered them a bus, so after literally the scariest bus ride of their lives in which everyone thought they might have to get out and push, they got to Chicago—where every single flight in O'Hare had been cancelled. The next flights wouldn't be for another three days, so Nikki suggested an unplanned road trip. After 18 hours in a rental car with Nikki and her parents, Kurt had won her heart. She knew she had to marry him.
After all, family is so important to both of them. Nikki has an incredibly close family of all sisters that band together to support each other—including during this wedding. Kurt's family is just as close, though they're calmer than Nikki's energy-filled one. But for both of them, that love and togetherness makes all the difference.
Now, the two of them have been having slightly more "ordinary" adventures, building a house during their engagement and carpooling together to their jobs at American Family Insurance.
A Fall Wedding at the Bridgewood Resort
Thankfully, for this wedding, we didn't have the same weather problems that they had during their Disney trip. A wedding in late October in Wisconsin can be a gamble, but it was 70 degrees and sunny, with perfect fall colors all around. We were able to get some amazing pictures at Riverside Park, where the wedding party goofed around and enjoyed the sunny day. They were so easy to work with and willing to try anything.
Some of my favorite images came from our time at the park. Right before we left, one of the bridesmaids helped to hold Nikki's veil while I snapped a photo. The look on Nikki's face was exceptional; one photograph captured the range of emotions I could tell she was feeling the entire day.
And of course, in keeping with their love of all things Disney, they had a Cinderella-themed wedding, complete with golden pumpkins and an Alfred Angelo Cinderella wedding dress from The Bridal Event. It was truly fit for a princess, especially when combined with the stunning blush florals from Sterling Garden. Kurt and Nikki wanted a magical fairytale wedding, and their family and friends pulled together to give them just that.
Nikki's dad also surprised Nikki and Kurt when he brought their dog, Rollo, to the reception. Rollo had come to the engagement pictures but was being a bit...ahem...headstrong, so Kurt and Nikki decided to leave him home. But when Rollo came to greet them at the reception, this time, it was all excitement and love—and ended up creating one of their favorite wedding pictures.
Nikki & Kurt, it's not often I feel inducted into one's family. I really felt like I was with yours. From the first time we met to our final meeting, I have been incredibly impressed with how kind, generous, and gracious you are. It makes all the difference to wedding photographers like me when we have couples like you who are good-looking, kind, and care about photography—and plan their day accordingly. It makes my job that much more meaningful and fun. I hope that we're able to work together again. You guys rock!
I hope you both live happily ever after~
Vendors
Photographer - Adam Shea
Flowers - Sterling Garden in Neenah
Dress - The Bridal Event in Appleton (Disney princess design by Alfred Angelo - Cinderella style)
Bridesmaid Dresses - David's Bridal in Appleton
Cake - Manderfield's in Neenah
Music - The Music Caterer (DJ & Photo Booth)
Wedding Coordinator - Myranda Meyer (Added perk of holding reception at Bridgewood, you get a coordinator for the reception!)